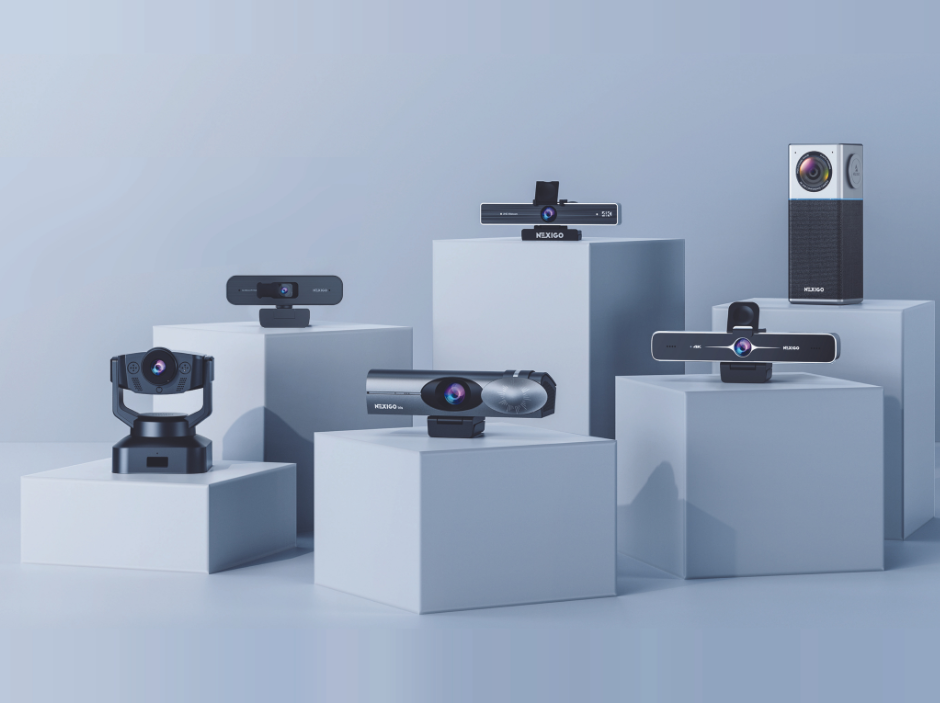 Webcam Buying Guide
Amber Stefanson | April 25, 2023
NexiGo offers more than 20 different webcams because we don't believe in a one-size-fits-all solution. Instead of relying on the standard feature set, we design each of our webcams to be a little different so that everyone can find a webcam that fits their needs perfectly. This is the comprehensive guide for finding which of these webcams is right for you.
Here's What We'll Cover
Which features you should look for in a webcam,
Expert tips on how to choose a webcam from any given category, and
Our top webcam recommendations from each category.
How to Choose a NexiGo Webcam
Don't Worry About Resolution
4K and 60fps are common buzz words for webcams, but most programs don't support 4K or 60fps. Twitch, Zoom, Teams, and WebEx all support up to 1080p @ 30fps only. That means that if you're only going to use your webcam for live content, there's no reason you should search for 4K over any other features. Higher resolution is only useful for content you will publish for others to view afterwards.
What to Look For in a Webcam
Instead, you should pay attention to the following features when you shop for a webcam. These will make a huge difference in how easy and enjoyable it is to use your webcam.
Field of view determines how much area your camera can capture. Wide FOVs (100°+) are essential for sign language and nonverbal communication. Narrow FOVs (70°–85°) are useful for limiting how much of your space people can see.
USB type (A or C) determines whether a webcam will be compatible with your computer.
Cable length is important for creating a clean setup. Most webcams don't have exchangeable cables, so you'll need to make sure you pick one with enough length for your setup.
Sensor size determines how much light your camera can take in. This affects contrast, sharpness, resolution, and low-light performance. The larger the sensor, the better — though these improvements come at a higher price.
Privacy covers come in a few different styles — attached, magnetic, built-in, and automated. Some are easier to use, and some are easier to lose.
Keep scrolling for a breakdown of these 5 important features — or if you already know what to look for, check out our webcam comparison chart to begin narrowing your search.
Field of View
Field of view (FOV) is the angle of the triangular area that your camera captures.
Wide Angle (120°)
Narrow Angle (74°)
For most uses, wide FOVs of 100° or above are optimal because they offer greater possibilities for communication and expression.
However, you may prefer a narrow FOV between 70°–85° if you use your webcam in a shared, small, or cluttered environment, or if you use your camera from a distance, such as across a living room or conference table.
A comfortable middle ground may be a zoomable webcam or a webcam with a moderate 85°–100° FOV.
USB Type
Most webcams use USB-A power cables, so if your computer only has USB-C ports, you'll need to do some extra research in order to find a compatible webcam. If you find a webcam tagged as a USB-C webcam, ensure that there's a USB-C at both ends of the power cable. Occasionally, webcams will be tagged as USB-C webcams because there's a USB-C port on the webcam, while its included power cable actually connects to the computer via USB-A.
Alternatively, you can get a USB-A webcam and purchase a USB-A to USB-C adapter separately.
Cable Length
Carefully measure along the path that you plan to run your webcam power cable to determine how long you need it to be. Most cables are between 4–7ft long, but if you require a longer cable, a few of our webcams have cables close to 10ft long. If you have specific requirements for the length of your cable, keep an eye out for webcams with removable cables, since you can trade them out with a power cable of your choice.
Sensor Size
Larger sensors capture more light, meaning they can process more detail, contrast, and color — providing overall cleaner and higher-resolution images even in dim lighting conditions. Smaller sensors are less versatile, but they may still produce a great image in decent lighting.
The naming convention for sensor sizes uses a fraction that looks something like 1/2.5". The larger the fraction is, the larger the sensor is, and the more light it can capture.
The largest sensor on the webcam market right now is the Sony STARVIS , which is 1/1.8". STARVIS sensors were originally designed to capture quality security footage at night. In a webcam, they will give you the brightest, crispest video quality in the low light conditions common in home offices. That's why we use the STARVIS 2 sensor in the Iris, and the original STARVIS sensor in our other 4K cameras.
Privacy Cover Types
It's commonplace for webcams to come with privacy covers out of the box, and you can't always remove or replace them if you don't like them, so it's important to consider what type of privacy cover a webcam comes with before you purchase it. Each style comes with its own advantages and disadvantages.
Built-In Privacy Cover
These covers are inside of the camera lens. You usually activate them by sliding a lever.
Pros: impossible to lose; difficult to break; creates no extra bulk
Cons: requires moving a very small lever which may become stiff over time; if the privacy cover is black, it's impossible to tell at a glance whether it's active; impossible to remove
Automated Privacy Cover
These covers activate automatically when you open an app with permission to use your camera, or when you tap the touch sensor.
Pros: convenient; impossible to lose; you don't have to remember to cover or uncover the lens; creates no extra bulk
Cons: not available for most webcams; impossible to remove
Attached Privacy Cover (Sliding)
These covers are clipped or glued onto the front of the camera. You can slide the cover over the lens.
Pros: difficult to lose; doesn't require much force to move; unlikely to become stiff; removeable
Cons: may be difficult to reattach if it comes off; you may accidentally leave half the lens covered when you mean to slide the cover off all the way
Attached Privacy Cover (Shutter)
These covers are fixed to the top of the camera. You can swing the cover over the lens.
Pros: reduces glare by blocking some overhead light; difficult to lose; removeable
Cons: bulky; can be difficult to click into place when you close it; may come open again if you don't close it all the way; difficult to reattach if it comes off
Magnetic Privacy Cover
When they get close enough, these privacy covers use magnetic force to snap on over the lens.
Pros: easy to put on and take off without the use of fine motor functions
Cons: easy to lose; may scratch the lens over time
Loose Privacy Cover
These privacy covers fit over the lens, but there's nothing keeping them attached to the camera.
Pros: easy to put on and take off without the use of fine motor functions
Cons: may come off or slide around easily, especially if the webcam moves
How to Choose a 1080p Webcam
Few 1080p webcams have exciting software-based features, but that doesn't mean that there aren't important features that set them apart. In fact, since more people need 1080p webcams, there's a much larger variety between them compared to webcams with ring lights or 4K resolution.
Focus type is one of the major features that varies between our 1080p webcams. While most 4K webcams are fixed focus and most ring light webcams have autofocus, 1080p webcams have a wide variety of options across every type of focus.
Focus Type
There are three different types of focus in NexiGo webcams: manual focus, autofocus, and fixed focus. Some of our webcams have either autofocus or fixed focus built in, but they also support manual focus in the NexiGo Webcam Settings App.
Manual Focus
Manual focus has a relatively narrow depth of field, which you can adjust by hand or using a remote control. To ensure that you're perfectly in focus, you'll have to adjust the camera every time you move a significant distance. Although some may find regular adjustment to be tedious, those who require more control over their camera will prefer having it as an option.
Autofocus
Autofocus has a relatively narrow depth of field, but it will adjust as you move to ensure that you're always in focus. Autofocus is the most convenient option, since you don't have to worry about staying close to your webcam.
However, the drawback to this is that sometimes the autofocus won't pick up on your movement properly, causing autofocus bounce, where the webcam continually slides in and out of focus as it searches for you. You also can't have multiple people in front of an autofocus webcam unless they all stay still at the same distance from the camera.
Fixed Focus
Fixed focus has a wider depth of field, meaning that you can move around within a wide range of distance without going out of focus. This is the most foolproof way to stay in focus, and it's the only focus type that can accommodate multiple people on camera.
However, since you can't adjust the focus, you may not have the range of motion optimized for your needs. Those who require more control may prefer another option.
Spotlight on: HelloCam
The HelloCam features the latest in webcam technology: an automated privacy cover that covers your lens for you every time you're done using the camera. Its fixed focus ensures that you stay in focus, so you can spend your time focusing on what's really important. The HelloCam is also our only webcam compatible with Windows Hello, which allows you to use facial recognition to sign into your Windows device.
How to Choose a Ring Light Webcam
Webcams with built-in ring lights are a convenient option for those who need a little extra light, but don't want to spend extra on a full-size ring light. Our standard ring light webcams feature a neutral-to-cool light with three brightness settings, while our premium models feature three color temperatures with stepless brightness adjustment.
Premium Model
Standard Model
Stepped vs Stepless Brightness
Stepped brightness features three distinct brightness settings, whereas webcams with stepless brightness can be adjusted to infinite positions between the brightest and dimmest settings. In this way, premium ring light webcam models offer greater control.
Color Temperature
Our premium ring light webcams enable you to cycle through three color temperatures: warm, neutral, and cool. Generally, a warmer color temperature is more flattering, while a cooler temperature shows more detail.
Spotlight on: N960E
This N960E features adjustable color temperature and stepless brightness settings. Its elegant built-in privacy cover is bright red, so you can tell at a glance whether the lens is covered.
How to Choose a Zoomable Webcam
When choosing a webcam that can zoom in or out, it's important to determine whether a webcam can zoom in enough to fit your needs. Some webcams can zoom in more than others due to the limitations of digital zoom. Other webcams can zoom in a generous amount, but they lack positional (PTZ) adjustment, so you'll have to stay centered in front of your camera.
Digital Zoom Limit
Our webcams use digital zoom, meaning that they zoom in by cropping pictures and then enlarging them. This leads to a loss in quality, so we restrict our cameras from zooming in past a certain point to preserve your video quality. 4K webcams can zoom in further before their quality noticeably drops.
Digital zoom is measured by degrees of magnification. The digital zoom capabilities of NexiGo webcams range from 1x to 10x magnification. However, anything greater than 3x has limited utility.
Pan-tilt-zoom: PTZ vs ePTZ
PTZ, or pan-tilt-zoom, is the feature that allows you to point your camera further up, down, left, or right. Among cameras with PTZ capabilities, there's ePTZ and true PTZ.
ePTZ requires you to zoom in using digital zoom. It then repositions the zoomed-in picture within the full area that the camera captures when it's fully zoomed out. ePTZ is unable to reposition a fully zoomed-out image, since it's limited by the physical angle of the camera.
True PTZ physically moves the camera without zooming in by using a gimbal or rotating base. True PTZ is common in security cameras and other cameras that might be mounted to the ceiling, since they can tilt up-and-down, as well as left-to-right. This ability also makes them useful as a conferencing camera, or as a webcam that you want to use from multiple areas in the same room.
Spotlight on: N990
The N990 features a hefty rotating base that rotates a full 340° left-to-right and 120° up-and-down. This presents you with the most flexibility to create a dynamic setup. You can mount the N990 to the ceiling to save space, or you can keep it on a tabletop or tripod.
How to Choose a 4K Webcam
A huge advantage of getting a 4K webcam is that they often come with additional features, such as on-screen settings menus and presets.
Integrated Setting Menus
Most of our 4K webcams feature picture settings built into the remote. This may range from a single button to mirror the video or adjust exposure to a full on-screen settings menu with everything you need to optimize your webcam. If you usually need to make small adjustments to make your video feed look right, but you can't download our Webcam Settings App to make adjustments, a webcam with a full settings menu is essential.
However, if you do have access to our app, or if you don't tend to make picture adjustments, you can save some money by getting a 4K webcam without a remote control.
Customizable Presets
With select 4K webcams, you can zoom in, reposition the camera, and then save those changes to a numbered preset button. Picture settings such as contrast, brightness, and noise reduction can't be saved onto these presets. However, in addition to positional (PTZ) presets, the NexiGo Iris also features lighting presets, which you can use to commit all changes to memory.
The number of presets varies by webcam, as detailed in the following chart.
| Webcam | Number of PTZ Presets | Number of Lighting Presets |
| --- | --- | --- |
| Iris | 10 | 3 |
| N970P | 3 | 0 |
| N990 | 2 | 0 |
Spotlight on: Iris
The Iris is our most extravagant webcam. It features the clearest picture quality, even in dim lighting when most webcam footage would become grainy or discolored. It also features a suite of advanced features such as digital zoom up to 10x, AI auto-tracking, and a full settings menu with programmable presets.
The Iris is our best webcam yet, but it's also our most expensive. For this reason, we recommend the Iris content creators and tech lovers with stationary desktop setups, since it's too large to comfortably fit on most laptops.
Continue Your Research
Now that you know what to look for, check out this chart to quickly compare the features and specifications of every NexiGo webcam. For more recommendations based on how you intend to use your webcam, check out this article about which webcam is best for every occasion. Otherwise, stay tuned to the NexiGo blog for more helpful tech tips.
Like what we do? Stay tuned for more.
Whether you work at home or in the office, NexiGo provides a wide range of quality and affordable technology to elevate your daily life. Our products encompass everything from webcams and portable monitors to projectors and gaming accessories.
Articles we think you'll love