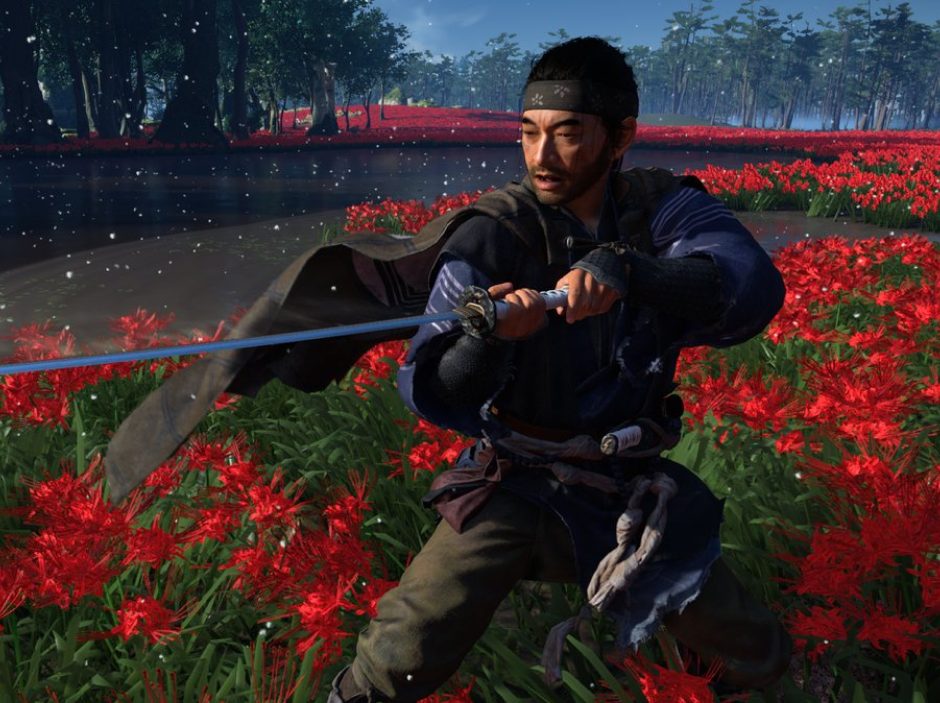 Top 7 Cinematic PS5 Games To Play on Your Projector
Amber Stefanson | Oct 2, 2023
As video game graphics have progressed past the Uncanny Valley and into a filmlike level of realism, a greater need has developed for cinematic direction.
From auteur video game directors and star-studded casts to atmospheric lighting design and playable cutscenes, video games are starting to look more and more like movies.
And with Netflix's push to bring indie video games to their platform and create new interactive movies in the same format as Black Mirror: Bandersnatch (2018), movies are beginning to look more like video games.
Within this niche of auteur, interactive content are some of the most beautiful PS5 games to-date. To celebrate the launch of our new 4K 120Hz projector, here are a few of the most cinematic video games available to play on PS5.
7. Cyberpunk 2077 (2020)
Image Credit: CD Projekt
Despite its rocky start and mixed reputation, it's impossible to deny that Cyberpunk 2077 is a ~breathtaking~ recreation of the vaporwave aesthetic. Take a look at the atmospheric effects in the screenshot above. With the reflections on the wet pavement to the city lights diffused in the mist, you can practically feel the damp chill and hear the car's tires slicking over the wet road.
Cyberpunk 2077's photorealistic graphics are further elevated by a cast of A-list actors. The Matrix (1999) actor Keanu Reeves does an exquisite performance as the game's deuteragonist, while Idris Elba stars in the new Cyberpunk DLC, Phantom Liberty. This casting decision marks another major video game participating in the trend of blurring the line between video games and movies.
Keanu Reeves as revolutionary badboy Johnny Silverhand
Idris Elba as secret agent Solomon Reed
6. Stray (2022)
Image Credit: Annapurna Interactive
In Stray, you play as a stray cat running through the abandoned, neon-soaked "Walled City 99", which is populated only by robots, bacterial pests called "Zurks", and a handful of cats.
Stray's aesthetic feels like the culmination of the post-apocalyptic and cyberpunk aesthetics that have been the infatuation of sci-fi for the past decade. I think of it as 2022's one last hurrah before the crown was handed over to the multiverse stories that have been in vogue since Everything, Everywhere, All At Once (2022) swept the Oscars.
Among Stray's most cinematic qualities are its beautiful environmental lighting and its ultra-low perspective that makes the world feel vast and threatening.
The cat runs from Zurks in a high-stakes chase
Like many other games by Annapurna Interactive, this game is accessible to inexperienced gamers due to its streamlined gameplay, heavy emphasis on visual storytelling, and interactive cutscenes. All of these qualities make for a visually stunning, film-like experience that can be enjoyed by gamers, film-lovers, and cat-lovers alike.
5. Spider-Man: Miles Morales (2020)
Image Credit: Sony Interactive Entertainment
Spider-Man gameplay has remained largely unchanged for the past decade. In fact, even since its first installment in 1982, the bulk of gameplay involves scaling tall buildings and swinging through the skyline of New York City. But as graphics have progressed, this classic Spider-Man setting has taken on a new life.
Spider-Man: Miles Morales is full of cinematic details like detailed reflections and camera-like bokeh, which would have been impossible to capture at such a high frame rate in earlier installments.
The sequel, Spider-Man 2 is set to come out October 20th, and based on the promotional material that's coming out about it, I'm expecting it to be even more cinematic than the last.
The cat runs from Zurks in a high-stakes chase
4. Death Stranding (2019)
Image Credit: Sony Interactive Entertainment
4 years ago, Death Stranding blew the gaming world away with its advanced performance motion capture and photorealistic character design that brings its star-studded cast to life.
Using the likenesses of Norman Reedus, Mads Mikkelsen, and Léa Seydoux, Death Stranding invites you into a dystopian future with gameplay as realistic as its graphics. Tasked with transporting supplies between cities, you must maintain balance as you traverse uneven terrain with heavy cargo strapped to your back.
In between gameplay challenges, cinematic cutscenes drive the plot forward. There's even a very easy mode, which is geared towards film lovers who would rather enjoy cinematic aspects of Death Stranding with minimal time spent on the balancing act in between.
3. Life Is Strange: True Colors (2021)
Image Credit: Square Enix
The set design in Life Is Strange: True Colors is absolutely unparalleled. Despite its limited setting, each space feels lush and full of detail. Lived-in. Take a look at the record store above. Every shelf and wall is covered, and each panel of wood is heavily textured with scuffs and fading paint. It feels like a space that people would actually use, and the same could be said for every room in the latest addition to the Life Is Strange series.
The setting is further enriched by optional "zen moments", where Alex listens to music while the camera pans around to all the little details that make the setting special, highlighting the space like a contemplative still-life. Roughly the length of a miniseries, you can play this game in bite-sized installments.
2. Uncharted 4: A Thief's End (2015)
Image Credit: Sony Computer Entertainment
Uncharted 4 may be the oldest movie on this list, but its graphics surpass still many of the games coming out today, almost 10 years later. Unlike previous games in the Uncharted series, A Thief's End juxtaposes the epic landscapes of an action game with the domestic warmth of a silver-screen drama — a visual contrast that's sure to keep you engaged.
It also features the perfect combination of action and stealth gameplay, immaculate character writing, and rich environmental design. Paired with cinematic cutscenes, which you can play through using quicktime controls and dialogue choices, this installment in the Uncharted franchise furthers the series' goal to make video games more film-like.
1. Ghost of Tsushima (2020)
Image Credit: Sony Interactive Entertainmen
Drawing heavy inspiration from Akira Kurosawa's filmography of samurai movies, Ghost of Tsushima is the game on this list with the most intention of toeing the line between movie and video game. Its depiction of the island of Tsushima is full of vibrant, visually stunning forests and meadows that make its open world a joy to explore.
The intentional character writing further elevates the game's film-like quality, compared to games where you create your own character and make choices that influence their personality. The Ghost of Tsushima character arc is unavoidable; all roads lead to the honorable samurai becoming consumed by a primal, bloodthirsty anger so great that it scares himself.
For the samurai film buffs out there, Ghost of Tsushima has an optional Akira Kurosawa Mode. Designed to look like one of Kurosawa's old samurai films, this mode puts the game in black and white with a slight film grain and a crunchy audio filter.
This mode even alters a few of the cutscenes to have lower angles and tighter shots, more comparable to how one would capture the scene with a camera. Complete with Japanese voice acting and English subtitles, you'll feel like you're walking through an Akira Kurosawa film.
Ghost of Tsushima (2020)
Yojimbo (1961)
Best Enjoyed On a 4K Projector
The best way to enjoy cinematic titles like these is on our new flagship projector, the Aurora Pro. This gaming-optimized powerhouse can pump out these games in up to 120Hz, with as little as 12-millisecond latency. You can pre-order yours now at a discount, or learn more about it on our blog or from tech reviewers iJustine and Craft Computing.
Also feel free to check out more of our favorite games below. Stay tuned for more!
Like what we do? Stay tuned for more.
Whether you work at home or in the office, NexiGo provides a wide range of quality and affordable technology to elevate your daily life. Our products encompass everything from webcams and portable monitors to projectors and gaming accessories.
Articles we think you'll love