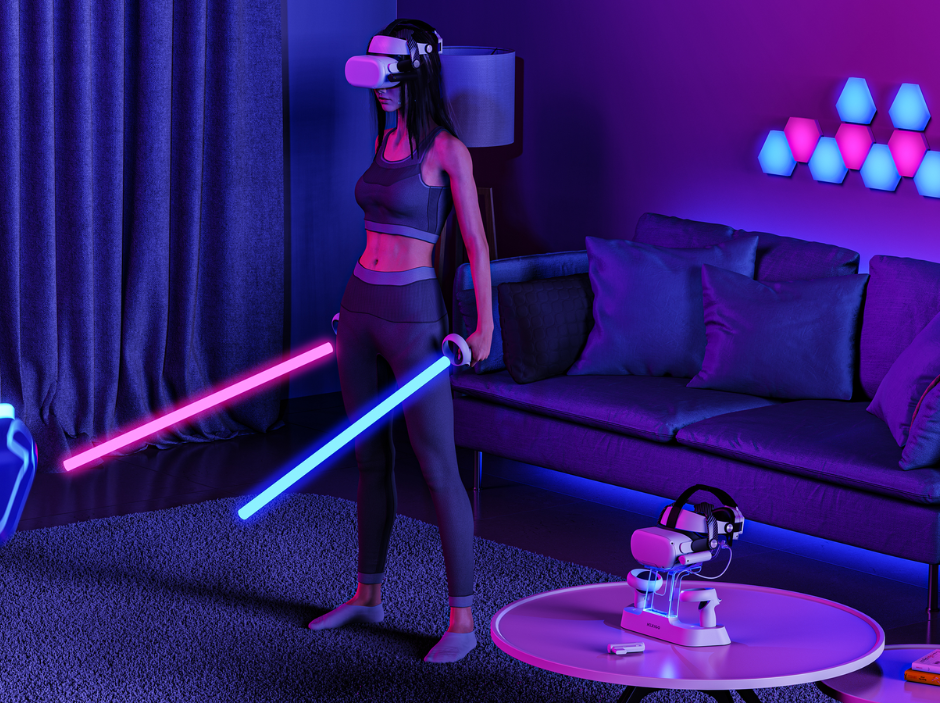 Oculus Accessories Buying Guide
Amber Stefanson | May 24, 2023
Do you have the Oculus (or Meta) Quest 2? We offer many accessories that can make your VR experience more immersive. Here's a rundown of our best accessories for the Oculus Quest 2.
Best of NexiGo Oculus Accessories
Charging Dock
Head Strap
Battery Pack
Link Cable
Accessory Adapter
Other Accessories
Charging Dock
Charge wirelessly from 0% to 100% in only 3.5 hours. Simply place your headset and controllers onto the charging dock — they'll begin charging as soon as they're aligned with the charging surfaces within the base.
How It Works
This charging dock replaces a traditional plug-in connection with a split magnetic cable and inbuilt magnetic surfaces. All you need to do to prepare your Oculus for use with the charging dock is perform the following setup steps.
1. Plug in the magnetic charging adapters
into the USB-C ports on your Oculus headset and Touch Controllers.
2. Insert the rechargeable batteries
into each Touch Controller.
Magnetic charging adapter
Rechargeable battery
Once you've performed these steps, you can place your Oculus into the charging base to begin charging. Take care to orient the headset and controllers properly so that the magnetic charging adapters line up with the charging surfaces embedded in the dock.
How to Read the Charging Indicators
When the dock lights up orange, your controllers and headset are busy charging. When the dock turns blue, they're fully charged and ready to go.
Orange = Charging
Blue = Fully Charged
Head Strap
A padded, counterbalanced head strap replacement that evenly distributes the weight of the device between several points on your head.
Balanced & Comfortable
Compared to the original Oculus Quest 2 head strap, our head strap is more balanced, making the headset less likely to fall off your head or cause discomfort.
Original Design
Image Credit: Eren Li
The original head uses a single anchor point to keep your headset in place: the bump on the back of your skull. Putting so much pressure in this area can cause a headache or discomfort over time. The headset weight of the headset may also cause the strap to ride up, at which point your whole headset will begin to fall forward.
Our Design
Using several points of contact with your head, our head strap balances the weight of the Oculus so that it doesn't slide forward. Since the weight is evenly distributed between these points, our strap is less likely to cause discomfort or headaches.
Easily Adjustable
Compared to the original head strap, ours is much easier to adjust, thanks to a convenient knob on the back of the headset. In addition to making it simple to find the right tightness, this knob makes the side straps less likely to loosen over time.
Original Design
Image Credit: Vinicius "amnx" Amano
The original Oculus head strap is difficult to adjust. To tighten or loosen the head strap, you must pull on the straps directly and fasten them with plastic sliders. It's nearly impossible to make these adjustments while wearing the Oculus, which means that it takes a long time to get the straps exactly how you want them. Not to mention, they may loosen or slip over time.
Our Design
The twistable knob on the back makes it simple to tighten or loosen the side straps to your precise needs. It's easy to adjust the strap while you're wearing the headset without fear of it slipping or loosening over time.
It's a lot like the official Meta Quest 2 Elite Strap — it just has a different look at a lower price.
Optional Battery Pack
We offer two premium head strap models: the S30 and the S32. Their only difference is whether they come with a battery pack attached to the back of the strap. This battery pack costs extra, but you can use it to keep your Oculus charged while you play.
S30 – no Battery Pack
This lightweight, affordable head strap does not come with a battery pack. Instead, it leaves your USB-C port free for a link cable or other accessories.
S32 – with Battery Pack
This upgraded head strap features a built-in battery pack so that you can enjoy longer play sessions.


External Battery Pack
Get an extra 2.5 hours of battery life with this external battery pack. It plugs into both the USB-C and 3.5mm audio jack on the side of your Oculus headset. Since it uses both ports to anchor itself firmly to your headset, you can rest assured that it won't come loose during intense gaming sessions.
Thoughtfully Designed
Compared to the original Oculus Quest 2 head strap, our head strap is more balanced, making the headset less likely to fall off your head or cause discomfort.
Passthrough Audio Port
You can continue to use your audio port without any data transfer loss thanks to this battery's audio passthrough port.
Carrying Case
When you're recharging the battery, you can use the included carrying case to protect the USB-C and audio jacks from accidental damage.
Link Cable
This ultra-long link cable comes in two sizes: 16ft and 32ft. Whichever version you choose, our cables' fiber optic technology ensures lossless transfer between your PC and your Oculus headset.
Accessory Adapter
Charge your Oculus and link to your PC at the same time! This accessory adapter turns the single USB-C port on your headset into two — though keep in mind that only the passthrough port can be used with a link cable.
How It Works
If you use the accessories adapter to link to a PC, you must use your link cable with the USB 3.0 passthrough port, which faces outward. The USB 2.0 port that faces backwards is only suitable for charging.
In our testing, the USB 3.0 passthrough port has no difference in data transfer speed compared to a cable with a direct connection. Meanwhile, the USB 2.0 port transfers data at roughly 1/10 the speed of a direct connection.
Other Accessories
Now that we have the basics covered, let's go over a few of our other peripheral accessories. These may not be essentials, but we think you'll find them to be huge quality-of-life improvements to your VR experience.
Cable Management Ceiling Hooks
A VR link cable mounted to the ceiling using adhesive hooks
This retractable pulley system keeps your link cable out of the way so you don't have to worry about tripping over the cable while you play. Our kit comes with both adhesive tabs and mounting screws so that you can mount it your way.
Carrying Case
Take your Oculus on the go or stow it away with this weather-resistant hard case. To make your S30 head strap fit inside, make sure to tighten it all the way. Currently, this carrying case does not fit the S32 head strap with a battery.
Protective Gear
Lens Cover
Keep dust off your lenses when you're not playing.
Controller Grips
Prevent accidental damage and keep your controllers firmly in hand.
Face Liner
Stay sanitary with this sweatproof alternative to the original spongey face liner.
You can purchase these accessories in the following bundles:
Continue Your Research
Didn't find everything you needed here? We get it — there's a lot to think about when it comes to virtual reality. If you're looking for more information about Oculus accessories, be sure to check out the recommended articles below.
Like what we do? Stay tuned for more.
Whether you work at home or in the office, NexiGo provides a wide range of quality and affordable technology to elevate your daily life. Our products encompass everything from webcams and portable monitors to projectors and gaming accessories.
Articles we think you'll love